Holster Claw For Sale - Top 5 Products To Buy.
Holster Claw Buying Guide : Shop Best Quality Claw For Your Holster.
For every gun owner, hiding the presence of a gun is one of the priorities. Learning Concealed carry art is essential if open carry is not allowed.
For this time, "holster claw" can be very helpful for a gun owner. This little device is beneficial to avoid gun printing by keeping it close to your body.
Sponsored Products
This is not enough to know about holster claw. For the best-concealed carry experience, you must know more about this.
In this buying guide, we will share complete information about what is a holster claw? Purpose of a claw on a holster, advantages, how it works & how to install a Claw.
After knowing all these points, you can choose the best products from the list we have shared below.
So keep reading………
What Is A Holster Claw?
In simple words, a holster claw is a device that is helpful for concealed carry by avoiding gun printing. These are helpful to improve concealment, eliminate printing, and generally make carrying more comfortable.
A holster claw is also known as a concealment claw or holster wing. Technically, a concealment holster claw comes equipped with an extra hook that attaches to your belt. This hook, or "claw," pulls the gun's grip closer to your body. By keeping your grips flush with your skin, a claw can significantly reduce the amount you print.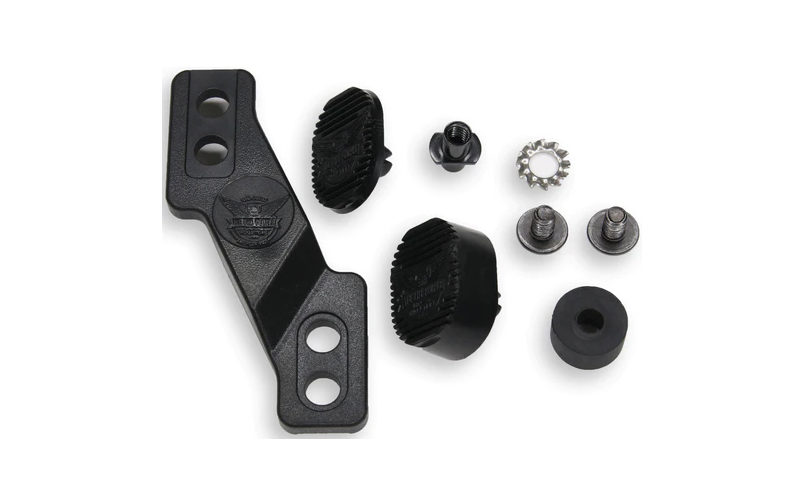 The holster claw can only work correctly with an IWB holster attached to a belt. Claws can be made from different materials and have different shapes and unique designs.
Each can affect how the claws function and sit on your belt. Claws are incompatible with OWB holsters, paddle holsters, pocket holsters, strapless carrying systems, or any form of off-body carrying.
The correct position claw is very important.
One of the essential things to have in proper contact is that the claws should be almost used with the belt clip. If the claw extends too high, you can strike it with your fingers as you draw the pistol. On the other hand, if it is too low, it may not have enough force on the belt to push the pistol grip back into the body.
Holster claws are a perfect option for various holster models. With the proper holster, a claw will make it easier to conceal and probably more comfortable.
WHAT DOES A HOLSTER CLAW DO?
Maximum Concealability
Comfortable
Enhanced Safety
Reversible
Smooth access for quick draw
Advantages & Disadvantages Of Holster Claw

Advantages
Very Good option for concealed carry.
You can hide large pistols more efficiently and have a little more space between the weapon and outerwear.
Able to sit, squat, bend, twist, turn, run and jump without firearm dislodging from the holster OR carry position.
Easy to conceal and more comfortable
Helps keep the gun hidden and close to the body.
The claw is excellent for decreasing weapon imprints on shirts
All day-long comfort!
Very well made, with great features and retention.
Disadvantages
The claw is going to push your beltway out at the point where you need to grip the pistol during a draw stroke. There is NOTHING to keep the claw from slipping out under your belt with vigorous movement.
Holster Claw Carry Positions
The benefits of a holster claw depend on its carry position.
AIWB Carry (Appendix Inside The Waistband )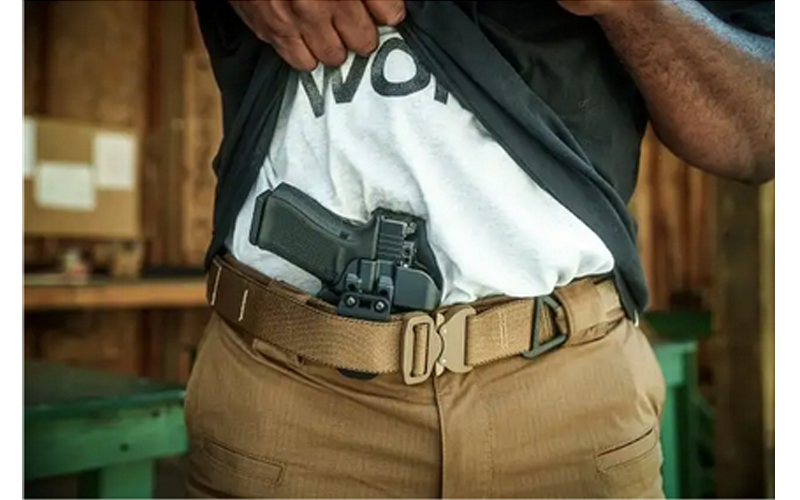 The claws exist mainly to improve the IWB (AIWB) holster. Appendix carry is the most popular way to carry. The specific location is between the pocket and the button on your trousers, close to the anatomical position of your appendix, hence the name.
The optional carry allows quick and easy access to the firearm as it is located in a position where you can easily reach it with your dominant hand.
Holster claws are one of the best methods used by AIWB carriers to mitigate these security concerns. The pincer can improve safety and camouflage by pointing the gun's muzzle away from the shooter's body.
Strong-Side Carry

Strong-side carry (IWB) means carrying a firearm inside the waistband of your pants at the 4 or 5 o'clock position.
Shooters who prefer the classic strong side carrying method (3 o'clock for right-handed shooters, 9 o'clock for left-handed shooters) can also use holster clips effectively if they understand the potential disadvantages.
With a stealth claw in place, a pistol with a strong side could dig into the shooter's thigh or side, potentially causing discomfort or making it difficult to draw.
4-5 O'Clock Carry

Image Credit: https://wethepeopleholsters. com
Your holster is placed behind your hip in the 4-5 o'clock carry position. If you love to carry a holster, this Concealed Claw offers all its advantages with great comfort & easy access.
When using this carrying position, your pistol is functionally behind you, as is your claw, which may require you to adjust the height of your holster to one of its highest positions. As long as you can find a way to align your nails properly, you won't have any problems.
How a Claw Works on a Holster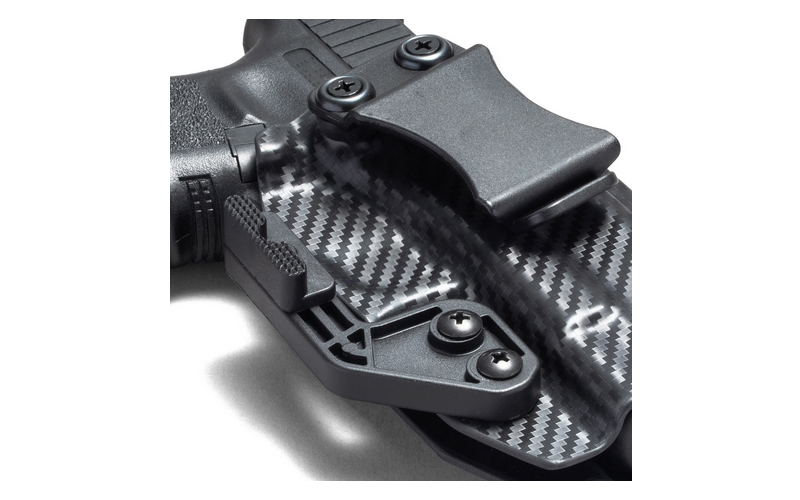 Holster claw is very helpful to keep the gun close to your body & avoid printing.
It uses the natural curve of your body by pressing down on the strap to push the end of your pistol grip back toward your body.
Wearing a belt is essential while using a holster claw. If you use it without a belt, it will not give you the best results.
These claws are usually constructed using a high-strength plastic polymer attached to the holster with one or two metal screws.
The attachment point is usually located under the trigger guard. This protrusion has a textured surface designed to grip the weapon's sling, applying pressure to the sling and enhancing the pistol's grip when carried.
When functioning correctly, the lever causes your gun to spin slightly, turning the handle slightly inward and the muzzle outward. The weapon should be level with your body without protruding from it.
How To Install A Holster Claw?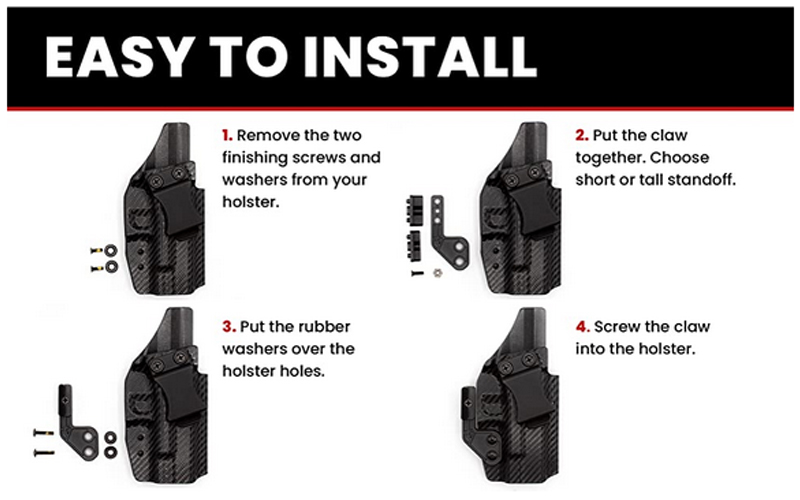 Holster Claw is a necessary piece for better concealment. It's easy to install and makes a big difference.
Before installing a holster claw, you need to disassemble the retention part of your holster & 2nd determine how much push you need.
Now, you are ready to install your claw.
First, take a reversible rear rack and attach it to the short end of a thick washer.
The next step is to insert the long end into the side of the holster where you want to attach the claw.
Take the lock washer, attach it to the rear post, place the claw on top, and secure it with the screw.
Insert the pad into the claw until you hear a click.
Use the second screw to adjust the hold on the back of the holster if necessary.
Now your holster and claw are now ready to use. It's so simple to install a holster claw. Check Claw Installation Video By We The People Holsters
Top 5 Best Holster Claw For Sale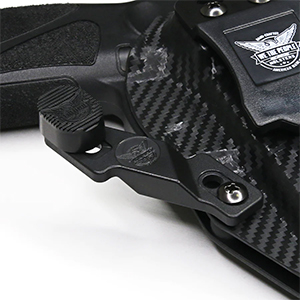 We The People holster claw is a perfect fit holster claw made in the USA. Easy to setup & makes a significant difference in concealing.
Specifications
Comes with adjustable depth.
it has adjustable angles to accommodate different carry options
Have interchangeable pads for best concealment.
Front mount or back mount options are available
A good choice for both left and right-handed IWB holsters.
Holster Builder Modwing Holster Claw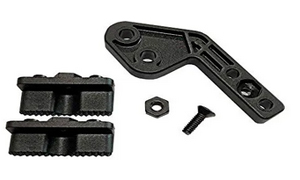 A perfect handgun holster claw to increase the level of concealment. The product comes with a lightweight, ergonomic design that allows for a quick draw. This holster claw is made of high-quality materials and is backed by a 100% satisfaction guarantee.
Specifications
This holster claw has a concealment-enhancing piece of hardware that allows the user to tuck the grip into the body.
Designed to mount below the trigger guard using pressure from the belt or waistline.
Comes complete with a spine, two interchangeable risers, and assembly hardware.
It can be configured for either RH or LH carry.
Pros
Concealment-Enhancing
Made In USA
Spine Included
Ambidextrous And Reversible
Cons
May Need To Pick Up Some Longer Machine Screws
Stache Iwb Claw Kit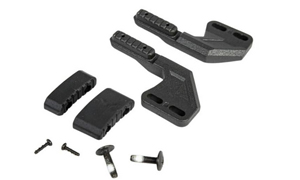 This device may be needed to help it disappear under even more form-fitting garments. The Stache™ IWB Claw Set is height adjustable and comes with left and right-hand claws inside the set for maximum versatility.
Specifications
Adjustable pad system
Adjustable for height
Medium and large-sized interchangeable leverage pad
Two mounting screws (affixes pad to claw)
Two long spare screws for mounting claw to holster
Made in the USA
Right and left-hand carry options supported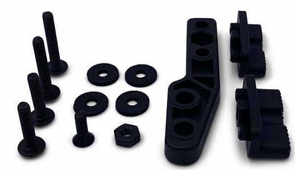 Say Goodbye to printing forever with IWB & Tuckable Claw Kit by Rounded Gear. This holster claw kit is an excellent option for maximum concealability. The claw kits come with all the hardware & accessories you need to install claws with a holster—a good choice for right-handed and left-handed IWB & Tuckable holsters.
Specifications
100% Made In USA - Guaranteed For Life
Best quality materials, components, and quality.
Double hole retention (with .60" Spacing).
Compatible with both our IWB & Tuckable lines of holsters.
Kit includes one short claw standoff, one tall claw standoff, one reversible claw base, two short pan head screws, one flat screw, one nut, four rubber spacers, and two long pan head screws.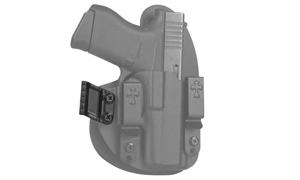 Get better concealment & comfort with the CB Concealment Claw. The device is designed to be snug against the back of the carrying strap to bring the pistol grip closer to the body, ensuring your pistol is easily tucked away. It is made from a virtually unbreakable polymer material and a ribbed contact point that help to prevent slipping.
Specifications
Made In USA
Lifetime Warranty
Product Size: 1" x .5" x 1"
Product Weight: 0.05 lbs
Featuring a ribbed contact point
Easy to install and works extremely well to conceal the grip of my firearm.
Frequently asked Questions about the Holster Claw
Q: What positions can I carry with a holster claw?
Ans: It's a very common question & answer is very simple. Holster Claw works in almost every position. The best part is carrying an IWB holster claw in the appendix.
Q: Do We need to wear a belt with a holster claw?
Ans: Yes, for sure. You will not get good results if you use a claw without a belt.
Q: How strong is a holster claw?
Ans: Holster claws are powerful as they are made with a composite polymer that creates a strong claw.
Q: Is the Holster Claw comfortable?
Ans: Yes, for sure. But sometimes it depends on the person. How sensitive is your skin are you & how tight is your belt?
Q: Where to buy a holster claw?
Ans: There are many online places to buy holster claw online. Gun Holster For Sale has listed industry top sellers, including We The People Holsters, Crossbreed Holsters & many more popular sellers & brands.
Final Thoughts
A holster claw is essential for better-concealed carry. Claws are very effective for many gun and holster models.
Here at Gun Holster For Sale, we have listed holster & holster claws you need to complete your carry system. We The people Holster Claw & The Vedder Holster Claw, are the best option for an IWB holster.
We recommend you to visit our specific page, "search by gun," page if you are looking for the best holsters for your particular gun model.