Thigh Holster: Top 5 Thigh Holsters For 2023
You hear somebody say "thigh holsters," and the odds are pretty good; your mind will wander toward something that a Bond girl might have worn. A thin but sexy strap of leather or lace is just functional enough to hold a mini-pistol in place under a dress.
However, thigh holsters can be as functional and rugged as any other style holster. They offer a range of benefits, including more effortless movement, increased comfort, and easy concealment.

You can grab a drop-leg thigh holster that suspends from the belt, or — yes — you can pick up small, covert models that are something like a Bond girl would wear!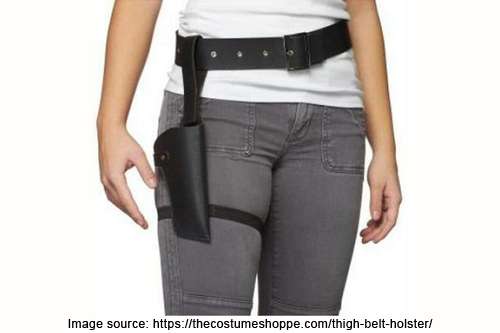 Why should I get a Thigh Holster?
Concealment
One caveat before I move forward: this doesn't apply to all thigh holsters. If you're wearing a drop-leg thigh holster, odds are it'll rest on the outside of the leg. Generally speaking, this is a better choice for military personnel, law enforcement, and hunters.
But hold the phone – despite this, thigh holsters can offer maybe the best level of concealment of any holster style. There's a pretty straightforward reason: you can wear them under your pants, flush against the thigh!
This is great if you're looking to take your gun in public but want to ensure you aren't acting against any concealed carry laws. Unlike holders that might rest over your chest inside your jacket, there's no chance that somebody standing next to you might catch a glance of your gun – and panic, not realizing you're a law-abiding citizen.
Great Secondary Option
If you already have a preferred 1911 holster, that's no reason to overlook thigh holsters. This is simple: they work great for a secondary weapon.
Ultra minimal thigh holster might not consist of much more than a holster and an elastic/leather band that rest around the thigh. This makes them ideal for mini-pistols or other compact guns.
If you're looking to carry around a backup weapon, thigh holsters should be your first choice.
Comfort
Because of the positioning of thigh holsters, you get a few advantages in the comfort department.
First, a thigh holster has its weight distributed to a part of your body that will naturally bear that weight. Studies show that anything carried below the waist is held more quickly since your torso muscles don't have to support it.
Second, thigh holsters offer a very secure hold. A thigh holster tends not to slip or flop around. If you're looking to exercise much with your gun on you, it's hard not to recommend a thigh holster.
Quick on the Draw
Remember those drop-leg thigh holsters I mentioned earlier? Sure they might not conceal as quickly, but they have their advantages. Number one among them is a fast, natural draw.
Drop thigh holsters sit precisely where your hands will naturally hang. This means that the time it takes for your hand to travel to your holster is about as short as it can be. Sure, we're only talking milliseconds, but milliseconds can make a big difference in a draw.
Now that you've gotten a quick rundown on all the benefits a thigh holster can offer you, maybe it's time to pick one out. Good news for you: we've done all the legwork so we could go ahead and bring you this: a report on our five personal favorite thigh holsters.
Top 5 Thigh Holster
Tactical Gear Thigh Holster TG221 Series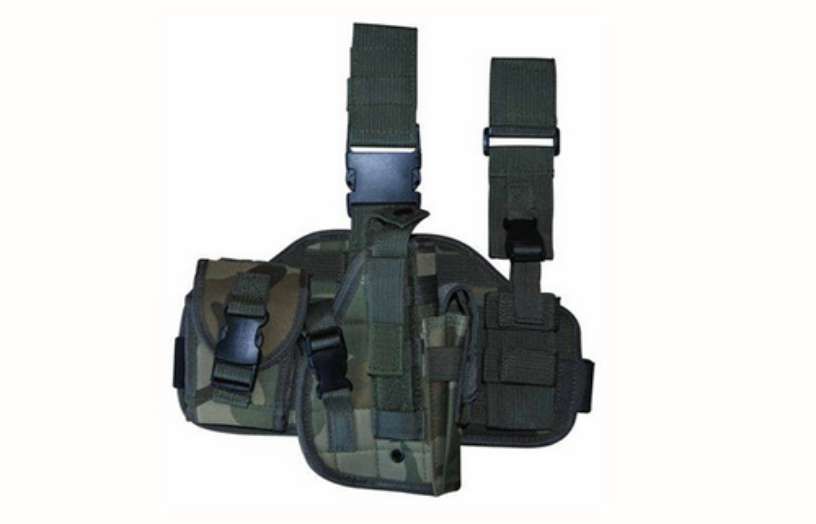 What's in a name? In the TG221's case, a heck of a lot. It's made of tactical Gear and sounds like something you might find the military using. The reason for that is because that's more or less precisely what the TG221 was designed for.

It's your standard thigh holster with a high amount of customizability. There's an optional belt-support harness that can be removed. There's an adjustable and removable leg strap. You have an adjustable thumb-break strap.
Whether you want to use it for magazines or a utility knife, this is a holster with options. It comes with an accessory pouch that hangs by the back-end of the holster. This makes it an excellent holster for long-haul trips.
There's a bit of heft to this holster, but it's not bad. In the TG221's case, it simply feels like the sturdiness you'd expect from a high-caliber product.
hile this may mean it's slightly more work to carry at its heaviest, the customizability also means you can strip this down to a more bare-bones holster. It feels like a product made for one reason: hard use in real situations.
If you spend a lot of time with your holster and appreciate modular design, this will be easy for you to pay for.
Tactical Gear Thigh Holster TG221 Series
Tactical thigh holster with a magazine pouch. Fully adjustable thumb break. Extra pocket for accessories. Fully adjustable and removable belt hanger. Fully adjustable and removable leg strap.
AGPtek Tactical Army Thigh Holster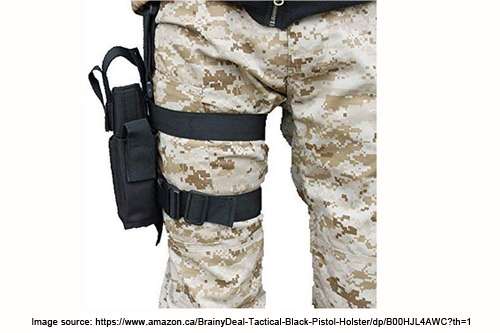 Two words here: military-grade. AGPtek has crafted their holster from an extremely light and durable polyester, and I can honestly say it wears like a dream. There will be times when you're wearing this holster that you forget you have it on.

It's not trading off comfort for function, though. What sets the AGPtek apart from our other choices is darn tough. A no-nonsense holster made for somebody bringing it into a no-nonsense situation.

It might be a bit much if you're looking to take a handgun out on your hunting trips, but an attention to detail and design here screams "professional." The holster itself is a reinforced velcro-adjustable shell and attaches to the thigh with a wide-spaced pair of straps.
If you choose to use its drop-belt attachment, you'll find this sits a bit lower than other holsters. This makes for a slightly more natural draw and higher mobility if you're on the taller side, so keep that in mind when picking up your holster.
The polyester used here really does manage to set the AGPtek apart. It's not as flexible or breathable as more commonly used nylon, but the trade-off is a solid product. Putting it on, you feel like you're making a statement: it's an all-business holster.
AGPtek Tactical Army Thigh Holster
Made from lightweight and durable polyester, Versatile design, Adjustable straps for a perfect fit, it Fits most medium to large frame handguns.
Cisno Adjustable Thigh Holster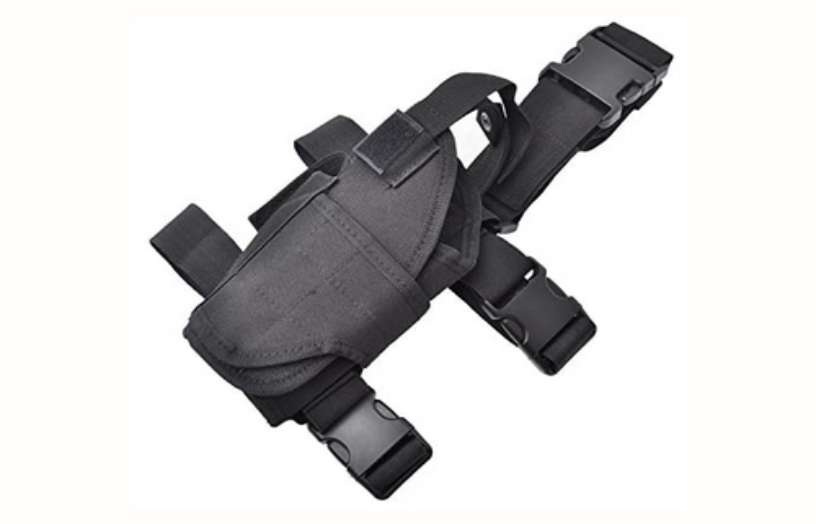 One thing you have to give the Cisno, even right out the box, is that it's an excellent-looking product. Many nylon holsters will look "soft" or, if you want to be less nice, cheap. This Cisno is a bold black holster with quality construction – it's not the kind of thing you'd be embarrassed to wear!

Looks aren't everything, of course. Just because it looks like something a seasoned police veteran would wear doesn't mean it's a quality product. Fortunately for you, it just so happens it is.

Besides the appearance, what stood out to me was the quality of the construction. Grab one of these. Now pick it up, grip hard, and give it a good tug. What will happen? Nothing at all. It is a tough-as-nails holster that I guarantee will more than pay for its price.
The straps adjust easily but hold well, and the buckles offer a tight, firm hold. These are essential qualities to a drop-leg thigh holster, but Cisno has made sure to pay attention to the details and provide a high functioning product.
A standout feature is a holster itself. The outer shell features a velcro/slider adjustable design, meaning that you're looking at a holster that can give you an excellent fit for a fantastic range of pistols.
Some people prefer to pick a holster designed for a single-size gun and stick with it, but this is your holster if you're looking for that adjustable range.
Cisno Adjustable Thigh Holster
Tactical thigh pistol holster, Used to hold handgun, pistol & revolver, Can be attached in the waist belt and fastened to the leg, Fully adjustable wrap-around design for additional fit and security.
Soft Armor Tactical Thigh Holster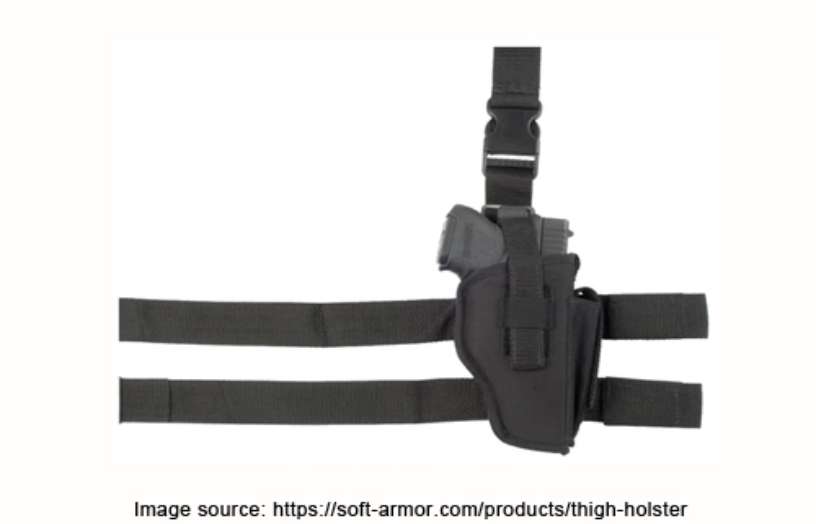 Soft Armor makes essential but durable products, and this model is no exception. It holds your gun well, fits comfortably, and is tough nylon. After trying it out some, I'd point to chalk it up as a success.

Worth pointing out is the holster itself. We're looking at a tough 600D nylon exterior here, which means your gun will boast some extra protection.

Beyond that, it has a soft-brushed interior. Protection on one side, good care on the other – what more can you ask for? The odds are pretty low that it'll take any of the finish off of your gun.
This is a drop-leg model but features a dual-strap thigh tether system. It's a nice touch which makes it easier to adjust to a comfortable fit. Not only that, Soft Armor has given us a holster with a very firm hold: after a few hours of wearing, it was still in the same position I put it on.
The holster fastens with a buckle/velcro combo – probably why it holds a secure so dang well!
This is a no-frills kind of holster, but what it does, it does well. A good thigh holster will be a comfortable fit, but a bad one will chafe. Then it's no small thing to recommend this one as a product that combines high-level comfort and function. It's a great product to hunt.
Soft Armor Tactical Thigh Holster
Made in the USA since 1982, Soft Armor holsters are made with only the finest performance-tested materials and include a Lifetime Warranty. This Holster by Soft Armor is a Tactical Thigh Holster with Molded Thumb Break Retention, Attached Mag Pouch, and Fully Adjustable Thigh Straps
Blackhawk Omega IV Ultra Universal Light Holster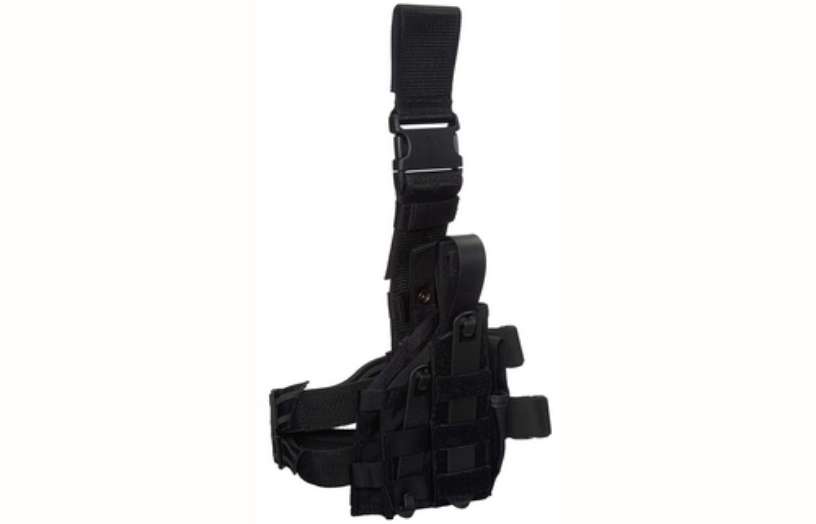 I'll go ahead and warn you: this one can be a little intimidating to set up. It's on one level your usual drop-leg thigh holster with dual-thigh band support, but on the other, there's a lot of velcro on this one, a lot of buckles.

This, as you might imagine, can be a little tricky to set up. This is the sturdiest thigh holster I've had the opportunity to try. Of course, there's a pay-off, too, and it's precisely what you'd expect.

The Blackhawk Omega is an industrial-grade thigh holster. Once you adjust it around your thighs, it won't give. Once you attach the holster, it won't slide whatsoever. It won't budge even a fraction once you put your gun in the holster.
It also boasts a handful of excellent features. The most obvious of these is its three-point breakaway system. These look snazzy and make it much easier to draw your pistol out in any direction without any hitches.
It's also a comfortable holster. The leg straps end in nylon, but for an extensive stretch, they're rubberized elastic. That's a trick material to play around with because if the tension is too high, you're looking at legs with their circulation cut off; too loose, and you have a slipper holster. Blackhawk, though, got it right with this one.
This is your holster if you're looking for something extra durable and quality. This is the kind of holster you'll be wearing for a long time.
Blackhawk Omega IV Ultra Universal Light Holster
The BLACKHAWK! Omega VI Ultra Universal Modular Light Holster offers a left- or right-hand configuration and a fully adjustable drop-leg thigh holster with a quick-release belt mount.
Our Conclusion
Before you rush out to pick up your new holster, a quick look back, your best basic options are the Cisno and the Soft Armor. Cisno is comfortable, has a bold look, and features an adjustable holster. All well and good, but the Soft Armor, true to its name, will offer you an increased level of protection with its dual-layer shell for the gun.
Tactical Gear offers a holster with more accessories and more options but at the potential cost of being a bit heftier. Blackhawk takes all the great features you'll find on our other discussed holsters and ramps the quality up a few notches, offering a truly premium product. And if you're looking for an extra-tough, bare-bones set-up, your best bet is the AGPtek.
Happy holstering with Gun Holster For Sale. We have holsters for sale from top sellers & brands you trust.